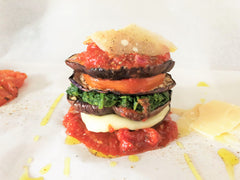 Serves 4 ppl
Ingredients:
Marinara Sauce:
1 tbsp rub that RUBS Italian 9 spice Blend
1 28-ounce can whole San Marzano tomatoes
3 tbsp extra-virgin olive oil
4 chopped garlic cloves 
1 cup diced sweet vidalia onion
1 teaspoon kosher salt
Directions:
1. In a sauté pan add olive oil and bring to medium heat.  
2. Add the onion and garlic to the pan and simmer until clarified about 2 to 3 minutes 
3. Crush the tomatoes in a bowl with your hands and pour in the pan
4. Add a Tbsp of rub that RUBS Italian 9 spice blend
5. Simmer for 15 to 20 minutes, Or until other ingredients are ready.
Eggplant Stack Ingredients:
2 Italian eggplants sliced once inch thick
Kosher salt
2 cups drained cooked spinach
4 slices mozzarella
2 heirloom tomatoes sliced one inch thick
Shaved Parmigiana Reginia 
olive oil
fresh cracked pepper
Directions:
1. Heat up the barbecue to 375 F.
2. Slice the eggplant and lay flat on paper towel, sprinkle with kosher salt and cover with paper towel. Weight it down with a heavy bottom pot.
3. Slice the tomato's and garnish with a sprinkle of kosher salt, set a side.
4. Thaw 2 cups of frozen spinach using the directions on the package.
5. Slice the mozzarella cheese in 1/2 inch slices, set aside.
6.Wipe of the eggplant slices and place on the grill, Remove when both sides have  brown grill marks.
7. Add the tomatoes to the grill. Remove when both sides have brown grill marks..
8. Heat the spinach and marinara sauce.
Build your stack:
On a plate put 1/2 cup Marinara on the plate,
layer with a slice of:
eggplant,
mozzarella one slice
eggplant,
spinach, 1/2 cup
eggplant,
tomato steak,
eggplant, 
top with1/2 cup marinara and shaved parmigiana.
Drizzle with a quality olive oil and fresh cracked pepper to taste and serve.