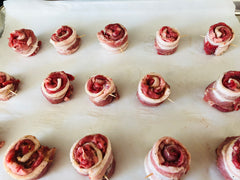 Serves 4 to 6 people
Ingredients:
1 lb venison (Moose, Caribou, Boar, buffalo etc.) or beef steak 1 1/2 or 2 inches thick
1 lb of pork belly or bacon
rub that RUBS Allouette spice blend.
tooth picks
Directions:
Preheat oven or BBQ to 375 F
1.Wrap the venison or beef in plastic wrap and the pork belly in plastic wrap. Place in the freezer for 1 hour or until firm but not frozen.
2. When firm but not frozen take the meat out of the freezer, Place the meat on a cutting board and thinly slice the meat as thin as you can. 
3. Place the sliced pork belly or bacon down on a clean surface and press it out to make it wider and thinner, This will help with the cooking process. Sprinkle on rub that RUBS Labrador Alouette spice blend (rub) on the outside of the pork. 
4.On top of the pork belly or bacon add a slice of beef or venison. sprinkle a bit more Labrador alouette spice blend and roll into a pinwheel. Insert a toothpick in the center of the pinwheel to hold in in place. Continue to do this until you have not meat left.
5. Once everything is rolled and your grill or oven is at 375, place the alouette's on the grill and cook until the bacon is golden and crispy, OR Place the alouette's on a baking dish with parchment paper in the oven at 375 F and cook until golden and crispy.
Serve while hot.