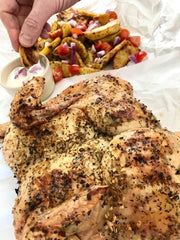 Looking what to serve your crew this barbecue season, This recipe brings out the best in chicken on the barbecue. Ever so juicy and the flavor of our Halifax Donair just makes it an all time favorite. 
Adding fluffy  golden roasted potato's brings it all together.
This recipe pairs well with (Nova Scotia),Grande' Pre vineyards,  Tidal Bay white wine or Nine Locks Blonde beer.