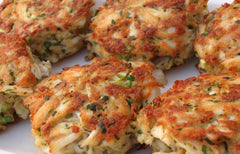 Ingredients:
1 tbsp rub that RUBS Piri Piri Gourmet spice blend
1 lb Cooked Nova Scotia lobster meat
1 Egg
1 tbsp white wine, I used a local L'Acadie Blanc
1 lemon, juice only
1 tbsp Mayonnaise
½ tbsp Worcestershire sauce
3 green onions minced
1½ cup bread crumbs
1 stick unsalted butter
3 tbsp grape seed oil or vegetable oil
Preparation:
Chop cooked lobster meat and place on on paper towel. Mix egg well with white wine and Piri Piri spice blend.
Add to the lobster along with 1/2 cup of bread crumbs.
Form into 4 oval shaped "cakes". Mix carefully with hands to avoid breaking up the lobster too much. * use gloves to protect your hands from the hot chili.
Melt the butter and oil in large skillet. Roll the "cakes" in the remaining bread crumbs.
Sauté on medium heat for 3 to 5 minutes or until golden brown on both sides.
For bonus points serve with Lemon wedges, Fox Hill plain yogurt infused with fresh tarragon on the side.
Don't waste the wine! Share this great Nova Scotia dish..