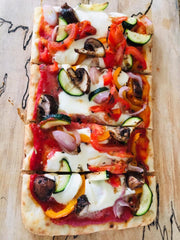 Dough Recipe:
1 package dry active yeast

1

 cup warm water (105 degree F to 115 degree F)

1 egg

3 tbsp olive oil

1/4 tsp kosher salt

3 ½

 – 4 cups all-purpose flour
Directions:
 In a small bowl, stir yeast into warm water; let stand for 5 minutes.
In a large mixing bowl, combine egg, oil, and salt. Stir in the yeast mixture. Add 1-1/4 cups of the flour. Beat with an electric mixer on low speed for 30 seconds, scraping bowl constantly. Beat on high speed for 3 minutes. Using a wooden spoon, stir in as much of the remaining flour as you can.
Turn dough out onto a lightly floured surface. Knead in enough remaining flour to make a moderately stiff dough that is smooth and elastic (6 to 8 minutes total). Lightly grease a large bowl; place dough in bowl and cover with a damp towel (make sure the towel does not touch the dough). Let dough rise in a warm place until double in size (30 minutes).
Punch dough down. Turn dough out onto a lightly floured surface. Roll into two 8x 5-inch rectangle. Place in a greased baking pan. Cover with damp towel and let rise for 20 minutes.
 Slipper Bread Recipe:
makes 2 slipper breads
1/2 cup crushed tomatoes

1 tbsp rub that RUBS Italian 9 Spice or Chicago blend

1 zuchini sliced

4 baby bella mushrooms sliced

1/4 cup pitted kalamata olives

1 shallot sliced thin

1 sweet bell pepper sliced
1 large fresh mozzarella ball sliced
Directions:
 Pre heat the oven to 425 f
Spread the crushed tomato on both dough's that have risen in a greased pan (recipe above)
Sprinkle 1 1/2 tsp rub that RUBS Italian 9 Spice seasoning or Chicago on each slipper bread
Top with fresh mozzarella slices and evenly add the vegetables.
Place in the oven and cook for 12 to 15 minutes (until the crust is light golden)
Remove from the oven slice and serve.