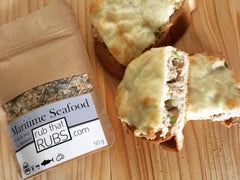 Recipe:
4 people
Ingredients:
8 slices whole grain bread lightly toasted
2 tins quality tuna drained
1 celery stalk chopped
1 tbsp rub that RUBS Maritime Seafood blend
3 tbsp mayonnaise
8 slices provolone cheese
Directions:
Preheat the oven to 350 f
Mix the celery, tuna mayonnaise and Maritime Seafood Blend in a bowl.
Spread each slice of bread on a oven safe baking sheet.
Spread the tuna mixture evenly on each slice of bread and top with a slice of cheese.
Place in the oven for 10 minutes or until the cheese is melted.
Remove from heat and serve.