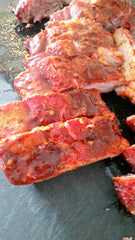 Required:
2 or more racks of spare ribs.
Rub that rubs - Memphis Dry Rub
2 cups  - Smoking wood chips,  soaked for a few hours. We recommend a hickory and cedar mix.
Tin foil or parchment paper
BBQ smoker
If you do not have a smoker you can use the Brazilian rub to get that smokey flavor and cook them in the oven.
Trim and prepare the ribs, remove the membrane. A paper towel can help get a grip on the membrane to pull it off.
We recommend using any of the following RUBS, Memphis Dry, Brazilian or Witchitaw.  Apply rub  generously on the ribs and let them come up to room temperature.
Prepare your Green Egg or smoker, we are looking for a cooking temperature between 200 - 230f. We recommend using a plate setter and smoking chips if you are using a Green Egg.
Stage 1:  Smoke Ribs for 3 hours.
Stage 2:  Take the ribs off the grill. Wrap them in tin foil or parchment paper. Place the ribs back on the grill for 1 - 2 hours.
Stage 3:  Remove the ribs from the parchment paper and place them back on the grill to finish cooking. This is a great time to add sauce!! Take the ribs off the BBQ when you are happy with the look and feel. You should see the meat pulling back away from the bones. The ribs should feel tender.
Stage 4: Cut the ribs and serve warm!