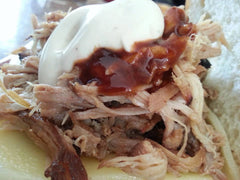 Ingredients:
8 to 10 lbs Pork shoulder bone in
2 tbs rub that RUBS Memphis gourmet spice blend
1 cup salt free chicken broth
½ cup sweet apple cider
¼ cup apple cider vinegar
Dinner rolls
Barbecue sauce as a condiment
Instructions:
Remove the fat cap from the pork shoulder and trim excess fat.
Place the pork shoulder in the slow cooker on high.
Add the sweet apple cider, cider vinegar, salt free chicken broth and Memphis dry spices.
Cover and cook for 5 to 6 hrs.
When the pork pulls away with a fork turn of the heat and remove the bone.
Pull apart the pork with forks.
Serve on a bun with barbecue and/or (jalapeno) ranch sauce! The pork is also nice on a open face corn bread sandwich.