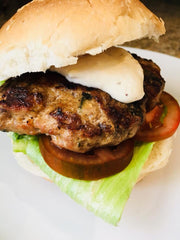 1 lb of pork or beef
Mix about 1 Tbsp of Acadian Bayou rub into the meat, form into 4 patties. All Rub that RUBS spices can be used in turkey, lamb, pork or beef burgers.
Cook until done, serve on a bun with lettuce and tomato. Add Louisiana hot sauce to mayonnaise to spice it up.