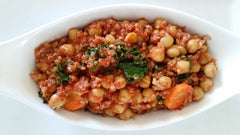 Ingredients:
3 cans of chickpeas drained and rinsed
one large Spanish onion
3 tbsp olive oil
2 cups vegetable stock
2 tins crushed tomato
4 garlic cloves
2 large carrots sliced thinly
1 cup kale de-stemmed and chopped
1/2 cup of Bulgar or quinoa 
Preparation:
pre-heat the oven to 375 F
put the onion garlic and olive oil in a food processor and pulse until it forms a paste.
Stir 1 1/2 tbsp of Berbere gourmet spice blend in 2 cups of vegetable stock, set-aside.
Pour the Chick peas, tomatoes, carrots, onions and garlic paste, stemmed and chopped kale and Bulgar or quinoa in a large casserole dish with the seasoned broth and stir.
Bake for 45 minutes at 375.or until the kale is wilted and carrots have softened.For bonus points serve with warmed Naan.