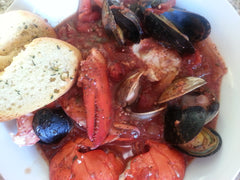 Ingredients:
2 tbsp RUB THAT RUBS Chicago Blend

Two 1 lb cooked lobsters (tails and claws)

1 lb of fresh mussels

1 lb of medium peeled uncooked shrimp

1 lb of medium peeled uncooked shrimp

1 lb of halibut

1 can Crushed tomatoes

¼ cup tomato paste

1 cup white wine

4 cups vegetable stock

2 tbsp olive oil

3 large cloves of Garlic minced

1 yellow onion diced

Fresh Basil leaves

Fresh Chives
Preparation:
Clean the clams and mussels and ensure they are good to eat.

Remove the meat from the lobster tails (cut in half) and crack the claws with a cleaver.

Cube the Halibut in bite size pieces

Peel the shrimp

Place the seafood in a bowl and put into the fridge

Mince the garlic and dice the onion put in a large pot and sauté with olive oil.

Once the onion has clarified, add the white wine and cook for 2 minutes in high.

Add rub that RUBS Chicago spice blend, tomatoes, vegetable stock and tomato paste.

Simmer for 20 minutes on low

Add all the mussels and clams, cover for 5 minutes.

Remove the mussels or clams that are not open.

Add the rest of the seafood and gently simmer for 5 minutes longer.

Once the seafood is cooked remove from heat and garnish with fresh basil leaves and chopped fresh chives

Serve in a bowl with French bread. Serves 4 - 6 people.