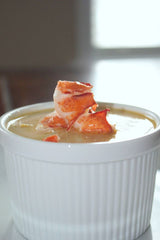 Ingredients:
Makes 4 portions 
4 tbsp Butter
1 large onion diced
2 tbsp of rub that RUBS Maritime Seafood Spice Blend
900ml Vegetable or chicken broth
¼ cup flour
6 oz Chowder fish mix (seafood section in the grocer)
4 oz Cod or Halibut (cubed )
750ml Heavy cream (or 2% milk for a lower calorie/fat option)
2 lobster shelled and cut into pieces
Preparation:
Prepare all the seafood and place in the fridge until ready to be added to the chowder stock.
Sauté the onion with butter in a pot, when the onion has clarified add the flour and continually stir. Add the broth and 2 tbsp of Maritime Seafood blend. 
Bring to a boil for 15 minutes. Reduce the heat to a rolling simmer add the seafood and cream. Simmer for 10 minutes then serve. 
Enjoy!