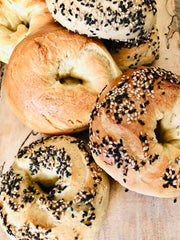 For the Italian Herb Bagels:
Recipe:
12 bagels
Ingredients:
1 1/2 cup warm water (110 f)
4  tbsp cane sugar
2 1/4 tsp fast rising yeast (1 pkg)
1 1/4 tsp kosher salt
3 tbsp olive oil
4 to 5 cups unbleached flour 
1 to 2 tbsp pure honey (Reserve for boiling water )
1 tbsp rub that RUBS Italian 9 Spice blend
Sesame Seeds, *Optional
Directions:
In a mixing bowl add the warm water and sugar. Stir water to dissolve the sugar.
Add the yeast and let sit for 10 minutes or until you see a foam build on the water.
Add oil, egg, salt and rub that RUBS Italian 9 Spice blend, mix until combined.
Add 1 1/2 cups of flour, mix on low for 1/2 minute in a stand mixer, scraping the sides. Mix for another 3 minutes on high speed.
Gradually  mix in the remaining flour, until the dough is firm but slightly damp. remove from the bowl.
Turn out on a lightly floured surface. Knead in enough remaining flour to make a dough that is smooth and elastic (6-8 minutes).
Cover dough and let rest for at least 10 minutes in a oiled bowl.
Divide dough into equal pieces. I recommend weighing the dough to 100 g for each bagel.
Form the dough into a bagel shape, you can roll the dough with your hands and pinch the ends together or push a hole into a piece of dough. 
Place on a greased baking sheet or a piece of parchment paper. Let rest for 20 minutes.
In a large pot add warm water and 1 - 2 Tbsp of pure honey, bring to a boil. Preheat over to 450 F.
Boil each bagel for 2 minutes, flipping them half way through with tongs.
Place bagels on a baking sheet or parchment paper.
*Optional - Cover a plate with sesame seeds and press one side of the bagel down on the plate.
Place bagels onto a greased baking sheet or baking sheet with parchment paper.
Bake at 450 F then reduce heat to 425 F.
Bake for 25 minutes.
Let bagels cool on a baking rack.