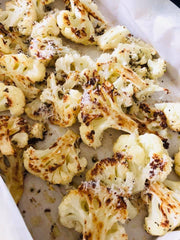 1 large head cauliflower
2 / 3 tbs good olive oil
1 tbsp rub that RUBS Italian 9 Spice
1 cup fresh grated Parmesan cheese 
Directions:
Pre-heat the oven to 350 F
Remove the outer green leaves from the cauliflower and cut the head into florets.
Place the florets on a baking sheet with parchment paper. Drizzle with olive oil.
Sprinkle the Parmesan cheese and Italian 9 Spice on the florets evenly.
Bake for 30 minutes, tossing once half way through
Remove from the oven when the cauliflower is tender and starts to brown. serve hot or warm.