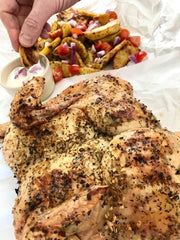 For the Spatchcock, Donair chicken:
Recipe:
4 ppl
Ingredients:
1 whole chicken 
2 tbsp rub that rub that RUBS Halifax Donair blend
1/4 cup butter softened
Directions:
Clean the chicken with cold water and pat dry, plus remove any of the insides (liver, neck etc)
Cut the back bone of the chicken and spread the bird flat.
Mix 1 tbsp rub that RUBS Halifax Donair blend with 1/4 cup of butter and rub under the skin. 
Rub 1 tbsp of the halifax donair blend over the skin.
Heat the grill to 400 f
Place the chicken bone down for 30 minutes with the grill cover down.
Reduce the heat to 375 f and continue to cook for 15 minutes or until the skin has crisped and the chicken is fully cooked (160 f)
Remove from the grill and tent for 5 to 10 minutes before serving
For the Halifax Donair Roasted Potato Wedges.
Ingredients:
1 medium mixing bowl cold water
1 tbsp kosher salt
5 to 6 small potatoes (2 lbs) peeled and cut into wedges
2 tbsp olive oil
2 tbsp rub that RUBS Halifax Donair Blend
1 tbsp lemon juice
extra olive oil for drizzling 
Parchment paper
Garnish:
1 Roma tomato diced
1/2 small red onion diced
1/2 cup of Greek yogurt
Directions:
Preheat the oven to 375 f.
Line a oven safe baking sheet with parchment paper
Peel and cut the potato's into wedges and place in the bowl of cold water with kosher salt for 10 minutes.
Drain the water and toss the potato's with olive oil, rub that RUBS Halifax Donair blend and lemon juice.
Place the potato's on the parchment paper lined cooking sheet.
Drizzle with olive oil
Bake for 30 minutes then turn over and bake for 30 minutes or golden on both sides.
Remove from heat and garnish with diced red onion and diced tomato, with a side of Greek yogurt