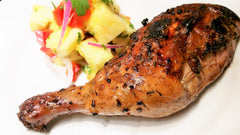 Recipe:
4 people
For the Jerk chicken:
Ingredients:
4 whole chicken leg and thigh
1 tbsp rub that RUBS Jamaican blend
1 Tbsp soy sauce
2 Tbsp vegetable oil
2 Tbsp water
Directions:
Mix the spice blend and wet ingredients in a bowl.
Score the chicken skin with a sharp knife about 1 inch apart
Place the chicken and marinade in a ziplock bag for 45 minutes or up to overnight.
Preheat the oven to 425 f 
Cook for 60 minutes
(or)
Cook over direct flame on the grill until the skin crisps, finish on indirect heat until fully cooked (160 f)
Serve with:
Rum & Lime, Pineapple Salsa
Ingredients:
1 oz Rum
2 fresh limes squeezed
hand full fresh cilantro chopped
1 pineapple cored and diced
1 small sweet red pepper diced
1 small red onion diced
1 jalapeno diced. Add more if you like it hot.
pinch of kosher salt
Recipe:
Mix all the ingredients in a bowl 
keep in the fridge until ready to serve
This can be made the day before.