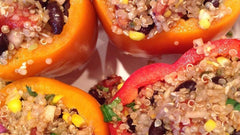 Stuffed bell peppers are a wonderful option for a low fat meal that is filling, Uncomplicated and versatile.
*Can adjust cheese and broth for a vegan dish

Ingredients:
2 cups vegetable broth or chicken broth
1 cup quinoa
1/2 cup black beans
1 cup corn
1 cup diced fresh tomato
4 large bell peppers
Cheddar cheese for topping
1 tbsp rub that RUBS Mexican Gourmet Spice Blend
Recipe:
Bring 2 cups of broth, quinoa and rub that RUBS Mexican gourmet spice blend to a boil.
Reduce heat and simmer and cover for 9 minutes
Remove from heat and fluff after 30 minutes
Add the corn, tomato, black beans and stir.
Preheat the oven for 350 F
Cut the top of the bell peppers off
Seed the bell peppers with a paring knife
Place the peppers in an oven safe dish and fill with the quinoa mixture.
top with cheese
Bake at 350 F for 30 minutes
Remove from heat and serve