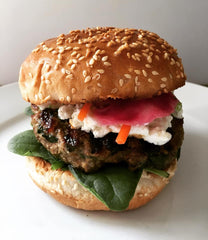 Makes 4 Burgers
Prep time: 10 minutes
Cook time: 8 minutes
*See Note at the bottom for a garnish made ahead of time suggestion

Ingredients:
4 burger buns toasted
1 lb of ground lamb (Substitutions: Ground chicken or turkey)
1 1/2 tsp rub that RUBS Shawarma gourmet blend
½ cup finely chopped spinach leaves
1 small shallot chopped fine
½ cup of smooth goat cheese
½ green onion diced
Spinach leaves for garnish

Recipe:
Stir ½ a diced green onion into a ½ cup of smooth goat cheese.
Set aside in the fridge.

Chop the spinach and shallot fine, Place in a bowl.
Add 1 lb of lamb, 1 1/2 tsp rub that RUBS Shawarma blend and combine evenly.
Place burgers in the fridge until the grill hits 375F. Once the grill is up to temperature, place the burgers over direct heat. Cook for 4 minutes, Flip and cook for another 4 minutes. Once the burgers are fully cooked remove and set on a plate. 
If grilling is not an option cook in a non stick or cast iron pan on the stove top over med/high heat.

Build the burgers on toasted buns with goat cheese and spinach.
Serve with any sides you prefer.

Garnish idea:
Quick carrot and cabbage pickle
½ cup of carrot and cabbage coleslaw mix (The vegetable section in your grocer will have it pre-packaged)
1 tbsp white Vinegar
½ tsp sugar.
Mix the ingredients ahead of time in a small bowl and leave in the fridge. Approximately an hour or more