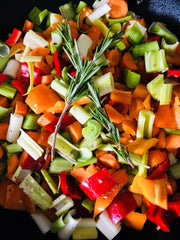 You can add more or less of any ingredient or substitute an ingredient with vegetables or beans you have available.

Serves 4/6 ppl

For The Mirepoix
1 cup diced leek Substitution: Yellow onion
½ cup cubed Celeriac (Celery Root) substitution: Celery
½ cup cubed carrots Substitution: Bell peppers
2 tbsp pure olive oil

Directions:
Heat the slow cooker to low add the ingredients and soften for 30 minutes. Stir occasionally. Do not brown or caramelize. (Start the mirepoix then prep the rest of the ingredients as it softens in the cooker)

For The Soup:
1 Green zucchini cubed
1 Yellow squash cubed
1 750 ml can diced tomatoes
500 ml of corn niblets (Substitution: Peas)
500 ml chick peas cooked (canned) Substitutions: Black beans, kidney beans, White beans
2 cups vegetable stock
4 tbsp Halifax Donair Spice Blend by rub that RUBS (Allergy Warning: Contains mustard)
Fresh Basil for garnish (optional)
Directions:
Add the remaining ingredients to the mirepoix and stir.
Turn the slow cooker to low, simmer for 2 hrs or until vegetables are soft.
Garnish with chopped basil and Serve in a bowl.