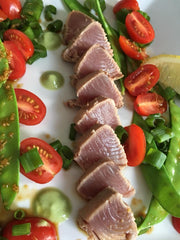 Temp: 105
Time:45 minutes
Serves: 4
Ingredients:
1 (Skipjack) tuna filet
1 tsp olive oil
1 tsp
rub that RUBS Chop House blend
Sauce:
1 green onion
1 inch ginger root
3 Tbsp ponzu 
2 tsp sesame oil
1 tsp soy sauce
1 tsp white sesame seeds
1 orange juiced
Garnish:
Snow peas
Cherry tomatoes
Lemon
Season the tuna filet with 1 tsp Chop House blend
Vacuum seal with 1 tsp olive oil
Immerse in the water bath heated to 105 F
Cook for 45 minutes.
Sauce:
Thinly slice the green onion
Grate the ginger
Mix together the ponzu, seasame oil, soy sauce, sesame seeds and orange juice, ginger and green onion.
Set aside
Garnish:
Clean sweet peas and slice the cherry tomatoes in half
Set aside.
After 45 min remove the tuna from the water bath and bag.
Pat dry and sear on high heat for 10 seconds each side.
Slice the tuna and plate with the vegetables and sauce.