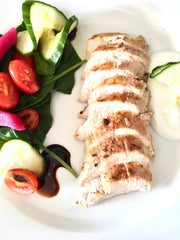 Temperature: 140F
Time:2 Hrs
Serves:4 ppl
Ingredients:
4 de-boned and skinless chicken breasts.
1 tsp
rub that RUBS Shawarma Blend
4 tsp olive oil
Directions:
Season each chicken breast with ¼ tsp of rub that RUBS Shawarma blend
Place in a bag with 1 tsp olive oil and vacuum seal.
Immerse in the water bath at 140 F for 2 hrs.
After 2 hours remove from the water bath and open the bags.
Option: Pat dry and sear on high heat until golden.
Serve with side salad and Pita bread with yogurt.