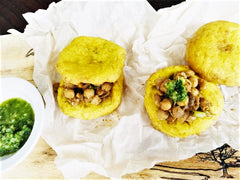 Recipe:
Ingredients:
For the bara (flatbread):
2

 

cups

 

all-purpose flour
1/2

 

tsp

 

salt

1

 

tsp ground turmeric
1/2 tsp rub that RUBS Madras curry blend

1

 

tsp

 

yeast
1/3

 

cup

 

warm water
1/4

 tsp

 

sugar

1

 

cup

 vegetable

 oil (for frying) 
Directions:
For the bara (flatbread):
In a large bowl, combine the flour, curry powder and turmeric.
In a separate small bowl, mix the yeast, sugar, and warm water. Set aside for about 5 minutes, until it foams.
Add the yeast mixture to the spiced flour mixture and enough additional water to form a slightly firm dough. Cover with a damp cloth and place in a warm place to rise until doubled in volume, about 60 to 90 minutes. Meanwhile, prepare the chickpea filling (recipe follows).
After the dough has risen, punch it down and  allow to rest for 10 minutes.
Dampen hands with water or oil and pull off tablespoon sized pieces of dough and roll into 4 1/2 inch rounds.
Repeat until you have used up all the dough and have an even number of rounds.
Heat the oil in a cast iron frying pan over medium high heat (should be about 3 inches deep).
When the oil is ready, fry the baras until puffed an golden, about 15 to 30 seconds on each side.
Drain on paper towels or a wire rack.
For the curried chickpea filling:
Ingredients:
1

 

tbsp

 vegetable

 oil

3

 

cloves garlic, minced

1

 

medium onion, minced

1

 

tsp

 rub that RUBS Madras 

curry blend 

1

 

14-oz can chickpeas, drained and rinsed

2

 

tsp

 

salt
1/2 cup vegetable broth
Directions:
For the curried chickpea filling:
Warm a large frying pan or skillet, add oil, and warm until shimmery.
saute' the garlic, onion, until clarified in the oil.
Add the Madras curry and sauté for a few more minutes.
Add the drained chickpeas and stir 
Add salt, and 1 cup of water. Stir and and lower the to low
Add vegetable broth to make a medium-thick sauce. 
Simmer for 30 minutes, covered.
Place one bara on a plate, spooning one tablespoon of the chickpea filling on the bread.
Garnish with a hot sauce or cucumber chutney for extra points